James Catalano Family Thanksgiving

What do vegetarians eat for Thanksgiving? It's a question we're used to answering! You can read A Vegetarian Thanksgiving Tradition here.
For breakfast, it's always cinnamon rolls. Cynthia bakes them the day before - it's an all day event. The house smells like cinnamon by the end of the day. Usually, we top the rolls with pecans but the picture below shows them with candy leaves. We'll take another picture of the regular rolls this Thanksgiving!

Here is the recipe for our cinnamon rolls. It was created by Cynthia James-Catalano and Betty James several years ago:

dough ingredients:
2 cups hot water
½ cup canola oil
½ cup honey
5 cups soft white wheat flour
4 tsp yeast
2 tsp salt
½ tbsp wheat gluten
¼ cup Sucanat

to make dough:
grind wheat to make flour
mix together hot water, canola oil and honey
add 3 cups flour
add yeast, salt and gluten
add 2 cups flour and Sucanat
knead together


filling ingredients:
6 tbsp butter
6 tbsp Sucanat with honey
2 ½ tsp cinnamon
½ cup pecan pieces

to make filling:
soften butter
mix soft butter, Sucanat with honey, cinnamon and pecan pieces

icing ingredients:
6 tbsp butter
½ tsp vanilla
1 ½ cups powdered sugar
water

to make icing:
soften butter
mix butter, vanilla, powdered sugar
add water to desired thinness of icing (more water, thinner icing)


to make rolls:
divide dough into two parts
roll out one part until flat
spread ½ half the filling over the dough, covering the entire surface
roll the dough into a giant spiral - it will be log shaped
with a sharp knife, cut slices off one end to make rolls
places rolls on cookie sheets to rise
repeat with other part of dough, filling
number of rolls depends on how thick or thin the dough logs are sliced
rolls should rise about double their size
bake in oven at 350 degrees for 15-20 minutes, depending on oven, and roll size
cool before icing



Ice cinnamon rolls just before serving them. Sprinkle rolls with pecans, candy sprinkles or any other garnishes. Garnishes will stick more to thicker icing. If serving for breakfast, bake rolls the day before and ice in the morning. How long it takes depends on how quickly the dough rises, but plan at least half a day for everything.

One year, Cynthia made spice muffins as well as cinnamon rolls. For fun, they were shaped like pumpkins and leaves.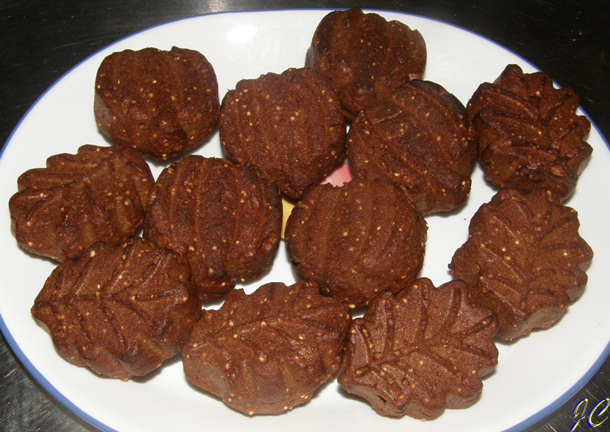 | | |
| --- | --- |
| Our main meal is a delicious blend of American traditional and creative dishes. Most people in the United States have stuffed turkeys; we have cheese stuffed shells. Jack makes them as he makes most of the Thanksgiving meal. Cynthia bakes the day before but Jack cooks on Thanksgiving day. Victoria made biscuits one year - we'll see if she continues that tradition. Our stuffed shells are a treat but so time-consuming to make that we usually only get to eat them on Thanksgiving. Even our meat-eating friends and family want some every year. Here's a picture taken on a previous Thanksgiving day. | |
We have a few other staples of our Thanksgiving meal: stuffing, corn on the cob and broccoli with caramelized garlic. The broccoli dish is perfect to mix with the stuffing! Some years we have sweet potatoes, other years we have mashed potatoes. We've tried the green bean casserole once - didn't go over with the kids - but we sometimes serve plain green beans. The carbs are running pretty high but we have had rolls or biscuits complemented with apple butter bought during our trips to the mountains.
Here's a picture from a casual Thanksgiving meal. Every now and then we attempt to get out the china and good linens but most years we keep it simple.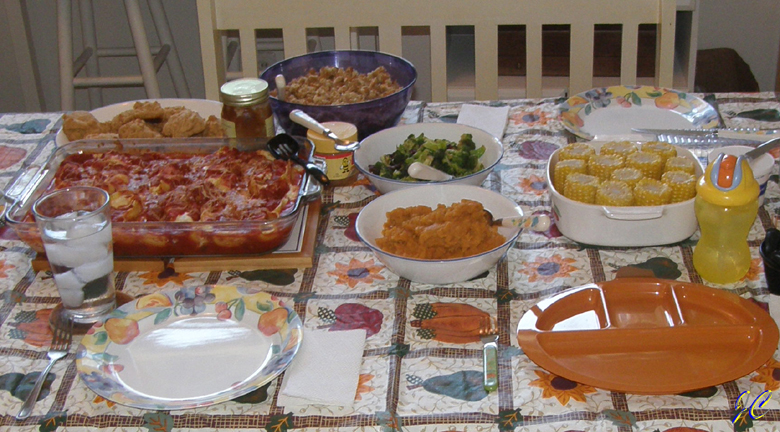 We can post the recipes for the stuffed shells and broccoli with caramelized garlic. (The other dishes are self-explanatory.) E-mail if you would like this added.
We'll take more pictures and update this Web site after Thanksgiving 2009.
---
Return to James Catalano Family Holidays
Return to The James Catalano Family Page
Return to The JamCat Home Page

Copyright © All Rights Reserved